Concerts by Candlelight
The 2018 season of Concerts by Candlelight
Concert Dates
June 24th
Philadelphia Flute Quartet
July 8th
Kathleen Scheide and Cheryl Cunningham
July 29th
Wister Quartet
August 5th
Allen Krantz
August 19th
Franklin String Quartet


As a cost saving measure, tickets will not be issued. Your reservation will be held at the door.

GET DIRECTIONS

For questions e-mail concerts@laurelhillmansion.org.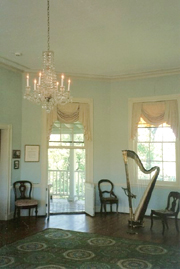 2017 Concerts
Listen: A Wister Quartet Premiere Live from the WRTI Performance Studio
By Jack Moore • Mar 5, 2018
The Women for Greater Philadelphia were pleased to announce the 42th Anniversary Season of Concerts by Candlelight at Laurel Hill Mansion. On five Sunday evenings throughout the summer of 2017, we will again present our series of chamber music concerts performed by musicians from the Philadelphia area. Through the years it has been our good fortune to have had so many accomplished artists accepting our invitation to play. To help defray the cost of these wonderful performances, we accept tax deductible contributions of any amount. If you would like to become a Sponsor or Patron, we will gladly add your name to our printed program. Of course we shall end each concert evening with our lovely reception on the porch overlooking the river, where you may enjoy refreshments and have the opportunity to meet and greet the artists. We do hope you will join us.
Sincerely,
Barbara Frankl, Music Chairperson
Email concerts@laurelhillmansion.org for more information.

Print form to pay by mail. PRINT
or scroll down to purchase tickets online.

As a cost saving measure, tickets will not be issued. Your reservation will be held at the door.
August 20, 2017 Franklin Quartet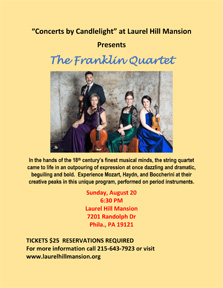 The concert will begin promptly at 6:30 P.M.
In the hands of the 18th century's finest musical minds, the string quartet came to life in an outpouring of expression at once dazzling and dramatic, beguiling and bold. Experience Mozart, Haydn, and Boccherini at their creative peaks in this unique program, performed on period instruments.
Print Poster


June 25, 2017 6:30-8:30 PM The Dolce Suono Ensemble
Mimi Stillman, flute
William Polk, violin
Kerri Ryan, viola
Arlen Hlusko, cello
Gideon Whitehead, guitar
perform music by Handel, Corelli, Mozart, Haydn, Pleyel, and Frances Hopkinson
"Music In The Second Capital"
An exploration of the musical tastes of the Founding Fathers and
music culture of Philadelphia in the late colonial and early republic period.

Scroll down to purchase tickets
Print Poster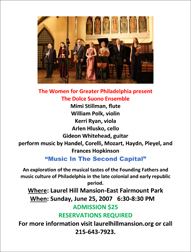 July 9, 2017 Principally Harps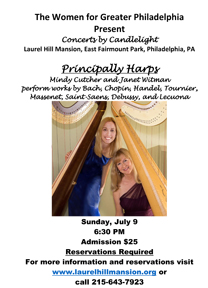 SOLD OUT

Principally Harps,Mindy Cutcher and Janet Witman, will perform works by Bach, Chopin, Handel, Tournier, Massenet, Saint-Saens, Debussy and Lecuona at thier concert at Laurel Hill Mansion.
Principally Harps Press Release
Print Poster

July 23, 2017 The Wister Quartet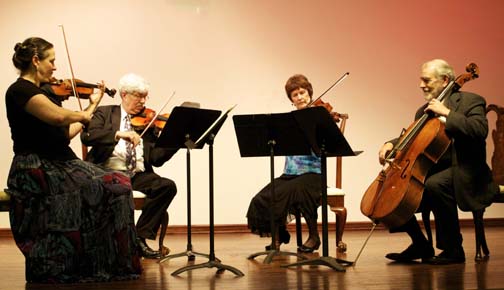 The Wister Quartet (Nancy Bean and Davyd Booth, violins; Pamela Fay, viola; and Lloyd Smith, cello) will present a program featuring Joseph Haydn's eloquently serious "Quinten" String Quartet in D Minor, Op. 76, No. 2; a rhythmically and harmonically intriguing work by Romanian composer Marcel Farago, his Duo for violin and cello, Op. 52; and Johannes Brahms' lyrically heartfelt String Quartet in A Minor, Op. 51, No. 2.
Press Release


August 6, 2017 Allen Krantz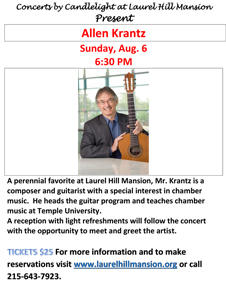 The concert will begin promptly at 6:30 P.M.
Print Flyer


Your tickets will be held at the door.

Donations help defray the cost of presenting the concerts. Any amount is appreciated.
View past concert programs and performer biographies.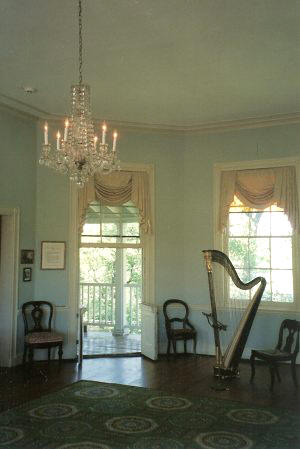 A brief history of Concerts by Candle Light at Laurel Hill Mansion
The "Concerts by Candlelight" series held each summer at Laurel Hill Mansion has been delighting citizens since its inception in 1976. The concerts highlighting local and national musicians are organized by Women For Greater Philadelphia's music committee. Some of the artists that have performed include the Jubal trio with Sue Ann Kahn, The Wister Quartet and Susan Duer. The series which focuses on chamber music takes place in Laurel Hill Mansion's famous octagonal room.

These popular summer concerts are held in honor of Mrs. Esther Kahn, music chairman of Women for Greater Philadelphia, for twenty years until her death in 1996.
Read about the 2014 concert season
by Vickie M. Feldman
posted August 7, 2014 on Hidden City Philadelphia