2017 Concerts
Concerts by Candlelight
Women for Greater Philadelphia are pleased to announce the 42nd season of Concerts by Candlelight. Join us on five summer evenings for chamber music at Laurel Hill Mansion. All concerts begin at 6:30 PM and are followed by a reception with light refreshments on the back porch of Laurel Hill Mansion overlooking the Schuylkill River.
June 25, 2017 The Dolce Suono Ensemble

July 9, 2017 Principally Harps

July 23, 2017 The Wister Quartet

August 6, 2017 Allen Krantz

August 20, 2017 Franklin Quartet
Your tickets will be held at the door.

Donations help defray the cost of presenting the concerts. Any amount is appreciated.
View past concert programs and performer biographies.
A Project of Women for Greater Philadelphia
Laurel Hill, East Fairmount Park, Philadelphia PA
The Women for Greater Philadelphia, on five Sunday evenings evenings during the Summer, will again present its well established summer "pastiche", the Concerts by Candlelight at Laurel Hill Mansion. Through the years it has been our good fortune to have had so many accomplished artists accepting our invitation to play here. We know that you will find the coming season's programs as delightful as in the past.

Of course, we shall top off these perfect evenings with our "meet and greet" the artist receptions on the porch overlooking the river following each concert. Do come. We want all to experience the charm and hospitality of Laurel Hill.

Tickets are available both singly and for the series. They may be purchased using the above buy now button or through the mail with a check or money order using the attached form.

Monetary gifts help us continue our musical tradition. We should be pleased to receive tax deductible contributions in any amount and add your name to the list of our Sponsors and Patrons. For more information about how your contribution can help sustain the music program at Laurel Hill Mansion please e-mail Barbara Frankl at concerts@laurelhillmansion.org.


Sincerely,
Alice Nugent and Barbara Frankl, Co-Chairpersons Music Comm.


Mailing address: Women For Greater Philadelphia, 510 Walnut Street, 16th Floor Philadelphia, PA 19106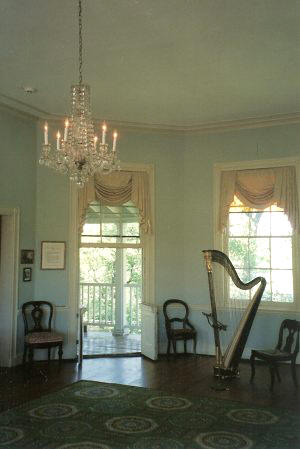 A brief history of Concerts by Candle Light at Laurel Hill Mansion
The "Concerts by Candlelight" series held each summer at Laurel Hill Mansion has been delighting citizens since its inception in 1976. The concerts highlighting local and national musicians are organized by Women For Greater Philadelphia's music committee. Some of the artists that have performed include the Jubal trio with Sue Ann Kahn, The Wister Quartet and Susan Duer. The series which focuses on chamber music takes place in Laurel Hill Mansion's famous octagonal room.

These popular summer concerts are held in honor of Mrs. Esther Kahn, music chairman of Women for Greater Philadelphia, for twenty years until her death in 1996.
Read about the 2014 concert season
by Vickie M. Feldman
posted August 7, 2014 on Hidden City Philadelphia